You've just gotten engaged and can't wait to start planning your dream wedding. But weddings are expensive and costs can quickly diminish the excitement. Before hiring a wedding planner (hint, hint), take a deep breathe and sit down with your fiancé and parents. Although it can sometimes be a tough conversation to have, you should discuss who will be contributing financially. In some cases, the parents will contribute a set amount and leave the bride and groom to cover the remaining cost or the couple will cover all costs. Know where you stand financially and begin determining your budget and guest count. This will help with many decisions to follow such as venue, food, flowers, and much more. By doing this important step first, you will keep from making hasty, poor decisions that you will later wish you could change and hopefully keep from watching all your dreams of peonies and linens disappear.
Your budget should cover more than just the reception. Invitations, attire, fees, photography, décor, etc. are included in this budget as well. The highest cost items are generally food, beverages, equipment rentals. Being realistic and controlled in these areas will have the most impact.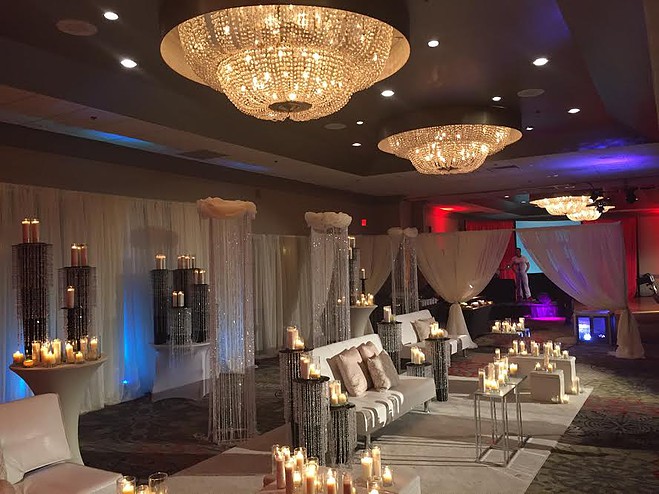 Once you've set your budget, it is extremely important to stay within its limits. Here are a few helpful tips:
¨ Make sure to be straightforward with your wedding consultant and vendors about the amount of money you've budgeted.
¨ Ask for detailed and itemized estimates in order to evaluate the costs accurately.
¨ If an estimate looks unusually high, ask if they can suggest ways to reduce the estimate. Every budget has room for reductions if needed.
¨ Insist on written contracts with all the commitments and costs listed once you have selected a vendor. The contract should cover all aspects of service that is expected and agreed upon.
¨ Read the fine print and ask any questions you may have to avoid confusion.
¨ Track all of your estimates and running total of budgeted items as they come in. Not only will you keep track of all your spending but will keep from things being overlooked in the planning process.
¨ Another great idea is to build a contingency fund. This should be about 10%-15% of your budget since there are most always unexpected costs.
Just remember, in the end its not about the money you did or didn't spend...its about the special memories that you'll make with your family and friends as you step into the new chapter of your lives as husband and wife.